Give the gift of ice cream!
Have a friend, family member or co-worker who deserves a treat? You can give them a gift card to The Parlour. Gift Cards can be used in either of our locations (The Parlour downtown on Market St., or The Parlour Jr. on Green St.). You can also redeem a gift card to pay for all or part of a special order on this site.
Physical Cards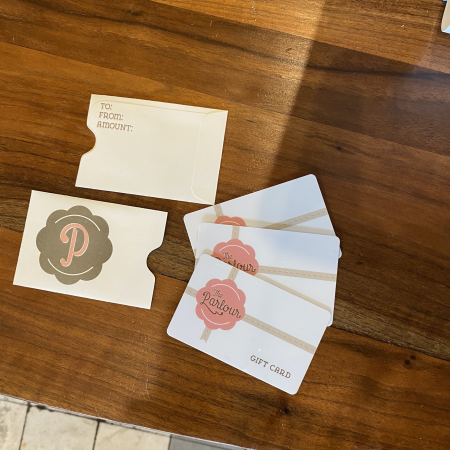 In the shop, we sell magnetic-stripe gift cards that you can load up in any amount. Stop by to pick up one, or a few. We'll include a sleeve where you can write in the To, From, and Amount details.
We don't send physical cards in the mail, so if you're out of town and want to treat someone, check out the eGift card section below!
eGift Cards
We sell eGift Cards via our payment processor Square (the link will open a new tab with our order page on Square's website). eGift Cards are delivered via email—either immediately or at a later date of your choosing—with a personal message. The recipient gets a code they can show us at the register. They can also choose to link the eGift Card balance to their email address and then have our cashier look them up by email.
the fine print
Also: we sold thousands of gift cards through a different processor before we switching to Square in 2019. Any of those older gift cards that still had a balance are still valid in our shop. If you have an older card (one with a lot of fine print and a 19-digit number on the back starting with 60501000), the website printed on it will not give you the correct balance. If you're not sure if it's still loaded, go to our new balance check page and enter just the last 8 digits. If the card still had a balance when we transferred to the new processor, that page will tell you what's remaining.